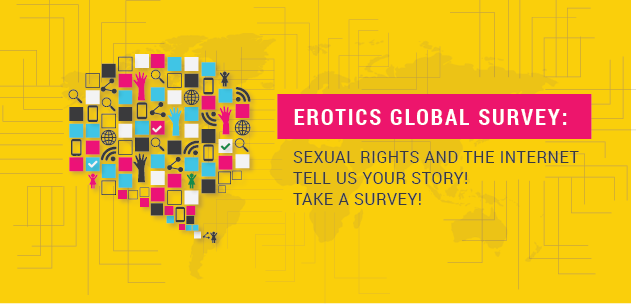 YOU HAVE UNTIL AUGUST 17!
The Association for Progressive Communications (APC)  has just launched the 3rd EROTICS global survey which targets sexual rights activists and aims to map the latest trends concerning the opportunity and treats of expressing sexuality online.The survey will be carried out till August 17 and we will appreciate your help with its distribution among your contacts.
English: http://bit.ly/2u0Ffuc
Spanish: http://bit.ly/2ur62Rq
The survey primarily targets LGBTQI activists and sexual rights defenders in the LAC, South Asia, Africa and MENA regions.  In particular we would like to hear from less visible communities such as intersex, transgenders, migrants, refugees, youth, elder, people with disabilities, and people who face additional discrimination based on
race/caste/religion.
The APC seeks your assistance to be our survey distribution partner to help us distribute the survey to your contacts in the region/s, as well as promoting the survey on your social media platform. We also hope that you can indulge us by assisting us to follow up with your contact throughout the period of the survey by sending them reminders that would be prepared by us.
APC will issue a report on the  3rd EROTICS  Global Monitoring Survey later in 2017.  The survey findings will support work of the APC and the EROTICS network,a global network of more than 50 activists, academics and organisations working on sexuality issues.
The findings of the 2013 survey and 2014 survey : (http://bit.ly/1DZ2RNr) have resulted in, among others, the inclusion of sexual orientation and gender identity in the UN Special Rapporteur on freedom of opinion and expression's May 2015 report on encryption, anonymity and the human rights framework in digital communications (http://bit.ly/1J4MyDk). The findings also informed the UN's first ever resolution on women human
rights defenders in November 2013 (http://bit.ly/1kLtgEv), with a paragraph on online violence against sexual rights activists.
Please do participate should this apply to you, but also share widely.